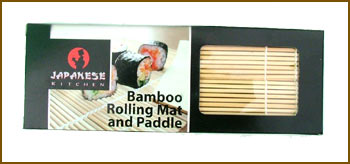 Bamboo Rolling Mat and Paddle
Bamboo Rolling Mat and Paddle :
The most important fool for Sushi.
The rolling mat is commonly used to make a rolled sushi. For inside out roll (rice on the outside), cover the mat with plastic film to keep rice out of the mat.
Passle is used to mix sushi seasonings into the rice for producing sushi rice. It should be dipped in water during use to prevent rice from sticking to it.
Mat and paddle should be washed and thoroughly air dried before storing.